Welcome to The Health Hub – Your Trusted Source for Natural and Alternative Medicine!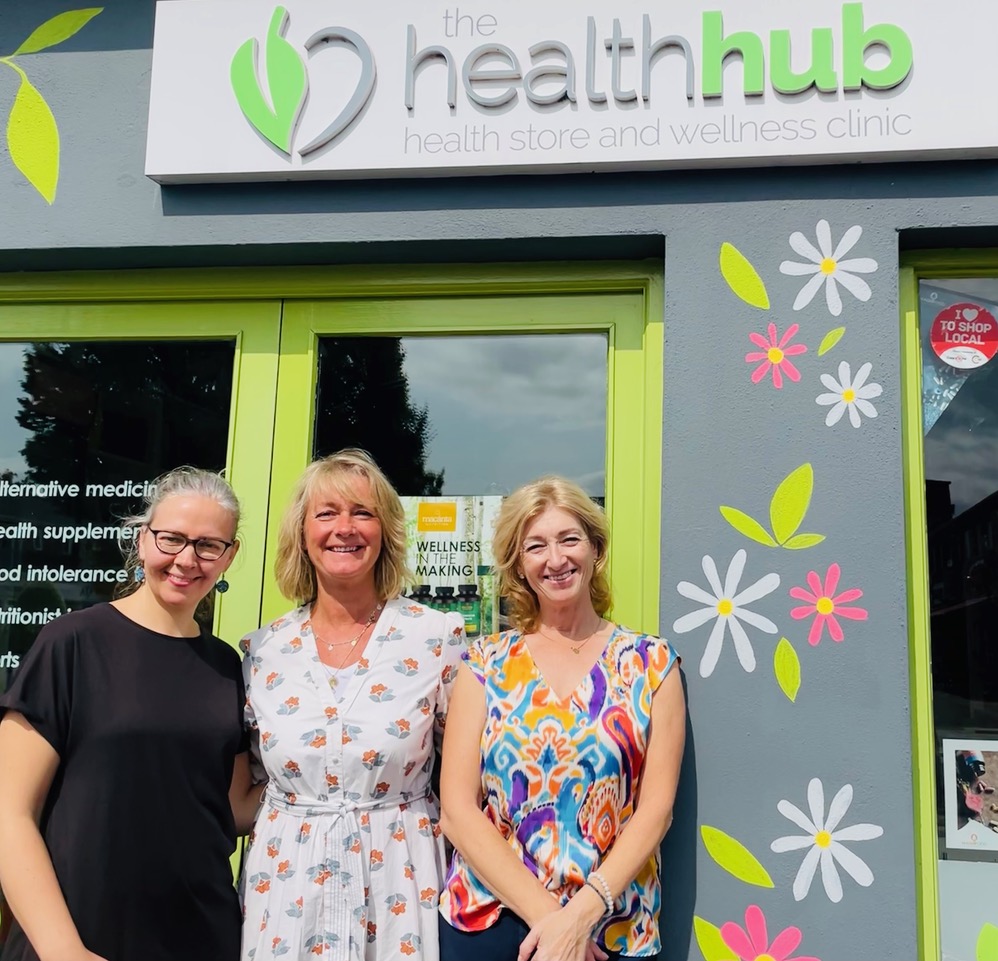 Our Story

The Health Hub was opened in 2011 by Anneliese Dressel, a nutritional therapist with a life-long passion for food, health and alternative medicine. Anneliese is well known for her Monday health slot on Cork's 103FM Today Show with Patricia Messenger at 10am – listen back here:
https://www.healthhubstore.com/blog/category/radio-slot.

Back in 2013, when she was searching for a natural remedy for a client, Anneliese had a lightbulb moment! There should be a health shop that offered the same level of expert advice on natural and alternative medicines that a customer expects from a chemist. A place where individuals could access reliable information and premium products that support their pursuit of a healthier, more balanced life. Like a Natural Pharmacy!

And so, The Health Hub opened in 2014, born out of a belief in the profound impact that natural and holistic approaches can have on one's health. Here, we aim to be a haven for those seeking alternatives to conventional approaches.

We believe that health is a personal journey, and what works for one person may not work for another. That's why we take the time to understand your unique needs and goals. Our experts are here to provide personalized recommendations, crafting a holistic approach that supports your individual path to wellness.

Our Team

We are a small, independent team at The Health Hub. We are all nutritional therapists, qualified and experienced in nutrition, functional medicine, natural remedies, herbal medicine, and holistic wellness.
We bring a combined 150 years of life experience to our work that helps in understanding and
advising our customers.

At The Health Hub, we understand that navigating the world of natural and alternative medicine can be overwhelming. We are here to offer you expert guidance every step of the way. Our mission is to address your queries, offer personalised recommendations, and ensure that your choices are well- informed and aligned with your unique health objectives.

About The Team

Anneliese Dressel grew up in a household that lives and loves food! Studying science in UCC, Anneliese developed her lifelong passion for using food and plants to heal. Graduating with a Master's Degree in Nutritional Science and later qualifying as a Nutritional Therapist, Anneliese set up her own nutritional therapy clinic. There she experienced how healthy diet and natural medicines could work together to address even complex health issues.

Anneliese is well known for her weekly natural health slot on The Today Show with Patricia Messenger, Cork 103FM. Every Monday, Anneliese answers questions from listeners on natural medicine alternatives for a wide range of common, and not so common, health complaints.

Anneliese has lectured extensively in Nutrition and Nutritional Therapy with The Irish Institute of Nutrition and Health, the Institute of Health Sciences, the College of Naturopathic Medicine, and Cork Institute of Technology.

Since opening The Health Hub, Anneliese has had the opportunity of helping hundreds of customers with their health. She also runs her Nutritional Therapy Clinics, where clients can come for one-on-one consultations for more personal health issues, and more detailed diet and health advice.
Kerry O'Connor is the manager of The Health Hub and is a warm, articulate and professional Nutritional Therapist. Kerry has a lifelong interest in personal health and nutrition and has qualifications in dietary coaching, herbal medicine, functional medicine and exercise and fitness.

Kerry is a very compassionate person and naturally interested in peoples' stories. As a Mum of three young women, Kerry has also the benefit of life experience in using natural medicine for the vast variety of health issues that occur from infanthood to childhood, to teens, to maturity.

Irene Steffens is a qualified Nutritional Therapist and also runs her own yoga practice. Irene is the serene member of the team and our customers benefit from her calm and sensible advice. Irene is a Mum of two young children and has lots of experience in using natural medicine in managing common childhood illnesses. Irene is also our expert on essential oils and their use in the home and in the medicine cupboard.

Our Product Range

At The Health Hub, we have used our collective clinical and scientific experience to curate a premium selection of health foods, supplements, and remedies. Quality is at the heart of everything we do. We partner with reputable suppliers and brands from around the world, known for their commitment to purity, sustainability, and ethical practices. If we don't feel comfortable in recommending it, then we don't stock it.

Combining our many years of experience, we have seen what works best for customers' individual needs. As an added benefit of being qualified nutritional therapists, we can also offer practitioner supplements to our customers and clients. Many that are not commonly available. We stay up-to-date with the latest research and developments in the field, ensuring that you receive the most accurate and comprehensive advice possible.

As nutritional therapists, we all recognise the power of a healthy diet and can offer advice on our wide range of organic superfoods, wholefoods, herbal teas and essential oils. We also have a carefully chosen selection of natural personal hygiene and household products that are kind to the body as well
as the environment. All of our products are carefully chosen to align with our commitment to natural wellness.